Tungsten Carbide Grade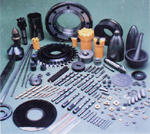 In most instances, hardmetal grades are chosen so as to give maximum resistance to abrasive wear, subject only to sufficient toughness to avoid premature failure by fracture. For such applications, WC/CO grades of varied grain sizes and cobalt content can be expected to give optimal performance. Less frequently a grade may be chosen because of some other property or combination of properties, such as elastic modulus, corrosion resistance, chemical stability at high temperatures (especially in steel-cutting tools), low density or specified thermal expansively.
Use of an incorrect grade of carbide may cause premature failure or diminish service life by perhaps several orders of magnitude. The choice of grade may be governed by the design or, conversely, the design may be controlled by a grade of hardmetal selected to meet stringent operational conditions. Whatever the circumstances, the interrelationship between grade, design and manufacturing method should always be carefully considered.
Factors affecting the choice of carbide for typical applications are fully described elsewhere in this publication.

Properties & Applications of Cemented Carbide Cutting Tools