Tungsten Dart Billets
Why Use Tungsten Darts and Tungsten Dart Billets ?
As we know, the darts game is very popular among the world, and the barrel forms the main part of a dart. Nowadays, tungsten dart billet is widely used as the standard barrel material, for it has a specific gravity of 19.3(20℃), making it a very dense material with small volume. Besides, tungsten dart billet has superior wearing resistance, well machinability, etc.
Since its special properties, tungsten dart billet for darts is quite difficult to be manufactured as 100% tungsten. Therefore, in fact, the "All-tungsten" darts in market are made of tungsten alloys. Engineered for a greater weight to volume ratio, tungsten darts have a characteristically slimmer barrel. Due to these special properties, tungsten is now widely applied in the making of steel tip tungsten darts to replace brass.
CTOMS (Chinatungsten Online Manu. & Sales Corp.) specializes in the manufacturing and exporting of various tungsten dart, tugnsten dart billet and other tungsten products, and we are now mainly promoting our high-quality tungsten dart billets & Barrels to users worldwide.
Some Pictures for Tungsten Dart Billets from Chinatungsten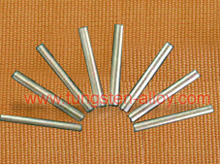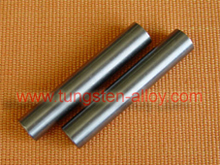 Usually we provide products according to clients' specific demands. We can also offer a range of different tungsten alloys, including W-Ni-Fe, W-Ni-Cu or W-Ni-Cu-Fe, up to the particular requirement for that high-density alloy. Surface center-less ground can be done upon demand. In addition to supplying the Tungsten Billet raw materials, we can also provide the machined part as Tungsten Barrel.
Please choose freely from the wide range of already available tungsten darts or contact us with your specifications. Please do not hesitate to contact us via e-mail: sales@chinatungsten.com, sales@xiamentungsten.com or call directly: 0086 592 512 9696. We are at your service. Price of tungsten darts will be offered based on size, density, quantity, hardness, and any other specific requirements.
For more information and pictures about billets, barrels and darts, please click http://www.chinadart.com/.