Tungsten Carbide Balls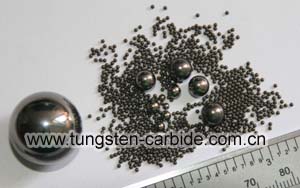 Tungsten carbide balls are used where extreme hardness and wear resistance is required; in such applications as bearings, ball screws, valves and flow meters. These balls are also used for coining and as pivots, detents and tips for gauges and tracers. Tungsten carbide itself is practically inert and extremely strong. Any attacks are usually on the binder. Since other materials are less expensive, the selection of tungsten carbide solely for corrosion resistance is usually not justified. In highly corrosive conditions, carbides with a more resistant binder can be supplied.
sage : ball pen , bearing , high precision instruments, hardness test machine, head pressure, mine, decorations and other special precision industry.
Heading a ball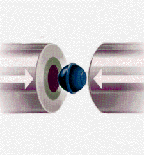 The raw material is supplied from either wire or rod. It is then cut to length and the width is a small percentage larger than the width of the finished ball.
The wire or rod is then fed through a header. This cold forged process produces "slugs" at an incredibly high speed. These rough shaped balls have a ring around the middle. The next process is to remove this ring.

Flashing
To remove the "ring" around the ball, the slugs are then flashed. This flashing gives the ball a rough finish.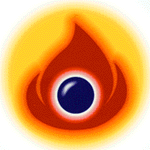 Heat treating
After flashing, the rough balls are then heat treated. This high temperature process hardens the ball.

Grinding
After the ball is heat treated, the ball is then ground to the approximate diameter of the finished ball.

Lapping
After the ball is ground to approximate size, the ball is then lapped. This lapping process polishes the ball to the exact size required. This gives the ball a shinny finish.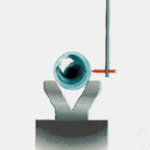 Final inspection
After the balls are removed from the lapping process the balls are inspected. This is done mechanically and visually. The balls are measured either through a fine tuned tapered roller or by a digital micrometer. These devices are capable of measuring within millionths of an inch. Once it is determined that the balls are within measured specifications, they are visually inspected through a high powered microscope. Once they are approved by quality control, the balls are then packaged and shipped to the customer.
If there are something you need, please do not hesitate to e-mail us by sales@chinatungsten.com, sales@xiamentungsten.com