Molybdenum Plate/Sheets/Foils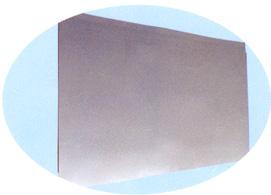 Introduce
Molybdenum plate is widely used in the construction of furnace tooling and parts and as a feed stock for the fabrication of parts for the electronics and semiconductor industries. Standard availability is described below. We can supply molybdenum plate as per customers' requests.
Molybdenum sheet is used for fabrication of sintering boats, high temperature furnace heating elements and heat shields.
Surface Condition
Surface can be supplied in a shiny, matte, or as-rolled condition; dependent upon thickness and width parameters.
Heat Treatment
Molybdenum flat products are rolled and annealed to provide the optimum condition for the desired end use.
Appearance: Silver gray metallic luster.
This product is made with Fmo-1
The impurity content accords with GB3462-82 standard.
Description
Code
Density g/cm3
Dimensions (mm)
Applications
Big molybdenum plate
High temperature molybdenum plates & TZM plate
BGMo BTZMo
9.5
(20-40) x (90-240) x (200-600)
Good high temperature properties and machinability
High purity molybdenum plate
Mo
9.5
Suitable for rolling pure molybdenum plates
Small molybdenum plate
High purity molybdenum plate
(Mo-2) (RMo-2)
16 x 16 x 160
Suitable for rolling molybdenum foil and punching molybdenum discs
Molybdenum sheet
Used for making lighting sources parts, high temperature shields, boats high temperature container etc.
Molybdenum sheet is used for heater of electronic vacuum furnace and heat-insulation screen, Molybdenum round sheet to produce Molybdenum boat and electric power semiconductor, raw materials to make vacuum light house. Forming the molybdenum powder with isostatic pressing, and with the technology of hot rolling, annealing, washing with alkali, cold rolling ,cutting,leveling off after the molybdenum sheet billet is formed by sintering with medium frequency furnace, molybdenum sheets have the excellent characteristic of brightness and smoothness on the surface and well reprocessing.
With 99.95% purity fine material, we produce high quality Molybdenum Sheet as one or our excellent and hot product. The thinnest Molybdenum Sheet we supply is only 0.05mm and the width of our Molybdenum Sheet is 610mm. The longest Molybdenum Sheet is 3,000mm. Our standard Molybdenum Sheet is 24" x 100" with thickness of .01" and .015".
We also supply, excluding Molybdenum Sheet, pure Molybdenum Sheet, TZM Molybdenum Sheet, and MoLa alloy sheet. All these molybdenum Sheet are widely used in electrode, furnace elements, vacuum evaporation boat, heat shields, and vacuum furnace assemblies.
We offer 3,000-5,000 kgs Molybdenum Sheet per month and small order is acceptable. To learn more about our Molybdenum Sheet, please see the specifications and features below and contact us today!
Please also come to our showroom to see more other powder metallurgy products such as Copper Tungsten, Tungsten Alloy, Tungsten Balls, Tungsten Plate, Tungsten Sheet, and other powder metallurgy products. Our know-how will answer to all your needs!
Specifications:
Thickness: < 0.15 mm Max size: 150 x 1000 mm
Thickness: 0.20 mm Max size: 500 x 1500 mm
Thickness: 0.25 - 0.4 mm Max size: 610 x 3000 mm
Thickness: 0.5 - 2.0 mm Max size: 610 x 1500 mm
Thickness: 2.5 - 3.5 mm Max size: 500 x 1000 mm
Features:
Qualty is meeting for ASTM B386 type 361
Molybdenum purity : 99.95% min
Qualty is meeting for ASTM B386 type 364
Zr: 0.06-0.12%
Ti: 0.40-0.55%
C : 0.010-0.030%
escription
Code
Density g/cm3
Dimensions (mm)
Pure molybdenum plate
BCM
9.9
(0.3-10) x (60-400) x (no less than 800)
High temperature molybdenum plate
BCGHM
9.8