How to Measure Ring Size
Because of tungsten's unique characteristics and extreme hardness, it is very difficult to resize a tungsten carbide ring, therefore, great care must be taken when sizing your finger.
You can visit a local jewelry store to get your finger sized accurately if you are not sure with your own ring size. Please inform the jeweler the approximate width of your ring. A person can wear up to half to almost one size larger for a band with larger width.
Alternatively, you can follow the procedure below to obtain your ring size. Sizes are expressed in American ring sizes. The ideal size will fit comfortably and be tight enough to prevent the ring from accidentally falling off, before ordering, make sure that the ring size is correct.
Firstly, get a piece of an inelastic string or a strip of paper.
Then, wrap it around the base of the appropriate finger.
Next, mark the point on the string or paper to tighten up the loop, forming a complete circle.
Then, measure the length from the starting end of the string/paper.
Finally, determine your ring size from the chart below.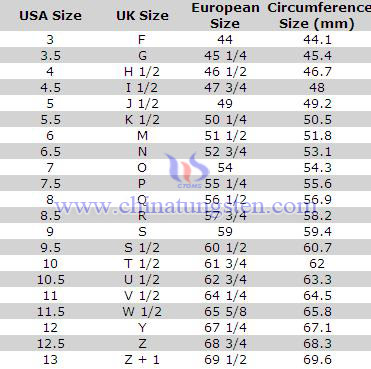 Please choose freely from the wide range of already available tungsten jewelry or contact us with your specifications. Please do not hesitate to contact us via e-mail: sales@chinatungsten.com, sales@xiamentungsten.com or call directly: 0086 592 512 9696, 0086 592 512 9595. We are at your service. Price will be offered based on size, density, quantity, hardness, and any other specific requirements.
Our Business Is Nothing But Your Success
More Info>>
1.Tungsten Ring for Women
2.Tungsten Ring for Men
3.Black Tungsten Ring
4.Tungsten Gold Ring
5.Polished Tungsten Rings
6.Tungsten Diamond Ring