Tungsten Carbide Saws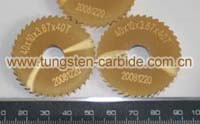 Tungsten carbide saw is supplied in a range of standard sizes for wood and steel-sawing applications.

Using the latest technologies and materials, our solid tungsten carbide saw blades are high performance products. These kinds of carbide saw blades are specially manufactured for cutting off and slotting metal materials such as plain steel, chilled steel, aluminum and copper as well as difficult-to-machine materials such as stainless steel, titanium alloys and printed circuit board.

Our tungsten carbide saw blades are precision made to a high standard, with specially ground finish and tooth. Compared with the high speed steel saw, it can perform high speed cutting, with a high machining efficiency, accurate slitting and good surface finish.

Quality control is always our first priority. From powders to finished parts, we consistently monitor all stages of the production process, which assures every products do meet the customers' specification. Each product goes through a thorough inspection and quality check before delivery.
Our commitment is to supply top quality tungsten carbide saw products, reliable services, as well as a creative solution which is imperative to our future with the customers.