Tungsten Dart Shaft Ring
What is Tungsten Dart Shaft Ring?
Tungsten dart shaft ring grips for shafts. If you use shafts like the ones in the picture then you can also use dart ring grips to keep your flight from coming loose in mid-throw or when approaching another dart in the board. Tungsten dart shaft ring grips can help keep yours dart on target by keeping your flight in place. However they can also cause bounce-outs, so only use them if you aren't getting a lot of bounce-outs.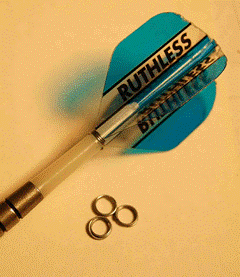 Tungsten Dart Shaft Rings
With the development of economy, tungsten dart games become more and more popular, tungsten dart related products is also very welcomed.Chinatungsten is a professional tungsten dart related products manufacturer and supplier who has more than 20 years of experience, we can provide various kinds of tungsten dart products, such as tungsten dart shaft, tungsten dart barrel, tungsten dart cases, ect. Our tungsten dart products are high quality.
Please choose freely from the wide range of already available tungsten dart shaft ring or contact us with your specifications. Please do not hesitate to contact us via e-mail: sales@chinatungsten.com, sales@xiamentungsten.com or call directly: 0086 592 512 9696, 0086 592 512 9595. We are at your service. Price of tungsten dart shaft ring will be offered based on size, density, quantity, hardness, and any other specific requirements.