Tungsten Contact/Point
A tungsten contact disc is treated by burnishing, so as to smooth and compact the contact surface and remove the surface-crazed metals and oxides, while simultaneously filling the surface pores with a contaminant such as iron. The contaminants present in the pores are subsequently removed by immersing the contact disc in a dissolving agent, and the remaining natural oxides of the tungsten are removed from the walls of the pores by cathodic reduction, to create large pore sites, which are free of oxides and contaminants.
Electric purpose tungsten contact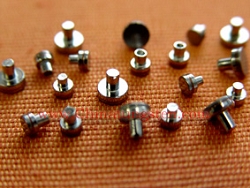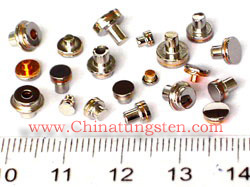 Purity W1≥99.95%
Specific gravity ≥19.1g/cm3~19.3 g/cm3
Crystal grain number ≥ 10,000PCS/mm2
Hardness  ≥ 71-74HRA
Size allowable tolerance d.h±0.05mm (It can produce the goods according to the client's specific drawings.)
Seat nail material is low carbon steel whose carbon content is equal to or less than 0.10%.
The copper purity of copper welding material is equal to or larger than 99.95%.
Welding point strength ≥ 83MPa
It strictly produces the goods according to P.R. China Mechanical Industry Standard.
Electric purpose tungsten sheet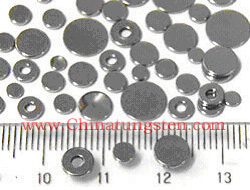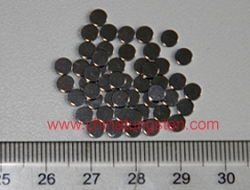 Purity W1≥99.95%
Specific gravity ≥19.1g/cm3~19.3g/cm3
Crystal grain number ≥10,000 a/mm2
Hardness ≥71-74HRA
Size allowable tolerance d.h±0.05mm(It can produce the goods according to the client's coming drawings.)
The current regular specifications:
Diameter: Φ3.0mm~Φ10.0mm
Thickness: Above h0.5mm
Spherical surface: SR13mm~50mm
Special requirement size allowable tolerance can be d.h±0.02mm