Anti-vibration Tool Holders
Anti-vibration Tool Holders
Deep boring operations require the use of tool holders. To achieve the best precision, vibrations must be eradicated.
Thanks to anti-vibration tool holders density, the mechanical characteristics of tungsten make it the perfect solution for tool holders.
Moreover, Chinatungsten Online offers tool holders:

a very good machinability,
a homogeneous and porosity-free structure,
an increase in the machining efficiency.
Boring Bar Tool Holders
Benefits offered by Chinatungsten Online Boring Bar Tool Holders include: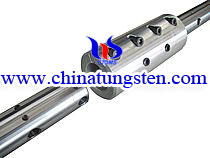 Compatibility with anti-vibration tool holders.
Increased cutting performance.
Deeper boring capability (up to 10 times diameter).
Increased performance over standard boring bars.
Available with Through-Tool Coolant.
Chinatungsten is a professional tungsten related products such as tool holders manufacturer who has more than 20 years experience, we can provide various tool holders according to your requirements. Tool holder offered by us is high quality.
If you get any interest in anti-vibration tool holders, please feel free to email us: sales@chinatungsten.com, sales@xiamentungsten.com or call us by: 0086 592 512 9696, 0086 592 512 9595.