Tungsten for Gold-plated Application
Why Tungsten Alloy is used as Gold Substitution?
In theory, as its density is 19.1g/cm3, which is approximately 70% denser than lead, uranium could be the good gold substitution, used as material of making fake coin. However, uranium is weakly radioactive and not as dense as gold, so it does not appear to be a practical method.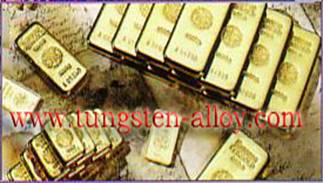 Gold Substitution-Gold Plated Tungsten Bar
Then people have discovered that tungsten is environmental-friendly, durable and hardness, the most important is that its density of 19.25g/cm3 is just about the same density as gold (19.3g/cm3), which bears the similar specific gravity. These advantages make tungsten enjoys the superiority to be the best gold substitution for the costly metal of gold or platinum.
Appliances of Tungsten Alloy as Gold Substitution
Nowadays, tungsten alloy is increasingly used in some field relevant to gold substitution or platinum substitution, such as gold plated tungsten jewelry. Meantime, tungsten is also used for tungsten golden bars making, which is a popular gold substitution. Also, it is widely adopted in making faking coins, such as memorial crown.
Since tungsten alloy bears a special property of longevity and high durability, when it is utilized to make jewelry, it always implicate the love between lovers or couple could be everlasting. Its hardness makes it ideal for rings that will resist scratching, are hypoallergenic, and will not need polishing, which is especially useful in designs with a brushed finish.
Chinatungsten offer tungsten alloy as gold substitution
We are well accustomed to exploit more innovative applications of tungsten products. Gold-plated tungsten is one of our main products. Pure tungsten, in the forms of round disc, plate, sheet, ring, and etc., can be perfectly coated with gold layer with clinquant shine, to replace gold or platinum merchandise except its currency function.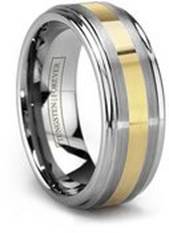 Gold Substitution-Gold Plated Tungsten Ring
The product above is one type of tungsten gold substitution, gold plated tungsten ring. With its highlighted band that is plated with 18K yellow gold, It has highly polished drop-down edges and a satin-finished center that provides a distinguishing contrast to its gold band feature. Masculine and rugged, this 8mm-wide Tungsten Forever ring has been designed to fit you comfortably.
If you are interest in this gold substitution, please feel free to contact us. Any questions or enquiries about tungsten alloy products will be welcomed by email to sales@chinatungsten.com, sales@xiamentungsten.com or telephone 86 592 5129696.
Notice: Chinatungsten Online (Xiamen) Manu.&Sales Corp. is a very professional and serious company, specializing in manufacturing and selling gold plated tungsten alloy brick for more than two decades. Our gold-plated tungsten alloy brick is only for souvenir and decoration purpose. Here we declare: Please do not use our gold-plated tungsten alloy brick for any illegal purpose.