Tungsten Alloy Nuclear Reactor
What is Nuclear Reactor/ Fusion Reactors?
Although nuclear reactors are often thought of as being solely a product of modern technology, the first nuclear fission reactors were in fact naturally occurring. A natural nuclear fission reactor can occur under certain circumstances that mimic the conditions in a constructed reactor.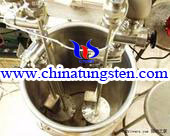 Nuclear fusion is the process by which multiple like-charged atomic nuclei join together to form a heavier nucleus. It is accompanied by the release or absorption of energy, which allows matter to enter a plasma state.
Tungsten Alloy Nuclear Reactor
The natural nuclear reactors formed when a uranium-rich mineral deposit became inundated with groundwater that acted as a neutron moderator, and a strong chain reaction took place. The water moderator would boil away as the reaction increased, slowing it back down again and preventing a meltdown. The fission reaction was sustained for hundreds of thousands of years.
Owning to the excellent property of avoiding radiation, tungsten alloy is increasingly adopted in the facility of nuclear reactors, that is tungsten alloy nuclear reactor.
Besides, according to the report of April, 2005, the scientists in America used a pyroelectric crystal heated from −34 to 7°C (−30 to 45°F), combined with a tungsten needle to produce an electric field of about 25 gigavolts per meter to ionize and accelerate deuterium nuclei into an erbium deuteride target. This case shows that tungsten products are not only radiation-resistant, but also has superior conductibility.
Tungsten is a suitable material for tungsten alloy nuclear reactor/fusion reactors making. So if you have any interest in tungsten alloy nuclear reactor/fusion reactors, please feel free to email us: sales@chinatungsten.com, sales@xiamentungsten.com or call us by: 0086 592 512 9696, 0086 592 512 9595.